Counter-Strike Online 2

MINI-UPDATE: 23 january 2020
>UPDATE IS RECOMMENDED FOR INSTALLATION<
What's new:
1) Master Server side:
1.1) Now you can protect your rooms with the Password.
• Password is case-sensitive.
• Admin and GM can enter private rooms without knowing the correct password.
1.2) Now you can use Recovery Capsule and Instant Respawn in PVE modes.
• Recovery Capsule restores 30% of your HP in 5 seconds. Cooldown between usages is 30 seconds. Can be used 50 times per game. By default, Recovery Capsule will be automatically used if your HP is low. To disable it press F4 while being in the game.
• Instant Respawn can be activated by pressing 'Space' if you was killed. Can be used in a room with 2 or more players. Can be used 3 times per game.
• You can buy those items in Inventory -> Items. Coupons for buying those items are located below the cases coupons.
• Since coupons system is used, you have to download the latest update to use the new coupons.
1.3) Now your Kills, Deaths and Assists stats are working.
• Those stats are counted not in all gamemodes. Excluded gamemodes: Zombie Crush, Z Crush Side, Mabinogi Heroes, Endless Wave, Practice, Playground, Z City, Z City Team, Campaign: 1-2, Training: 1-4,
• Those stats will be added to your User Info if you are starting and finishing the games properly.
• You can get Assists only for helping the real players (not bots) to do a Kills.
• Your KAD (Kills, Assists and Deaths Ratio) is calculated with this formula: (Kills + (Assists x 0.5)) / Deaths.
• Stats counted by the game and the server may vary by +-10%.
1.4) Now players with a VIP status can make Re-roll in Hide'n'Seek gamemodes.
• Re-roll can be made 1 time and it costs 1,000 Points.
1.5) Now you will see immediate changes in the settings of existing rooms while being in the room list window.
• You receive the new room list as soon as room host changes any room settings.
2) Client Side:
2.1) Coupons for buying Recovery Capsules and Instant Respawns are added.
UPDATE: 16 january 2020
>UPDATE IS RECOMMENDED FOR INSTALLATION<
What's new:
1) Master Server side:
No important changes this time, besides the rewards for playtime. Now you receive a random cases instead of specific ones.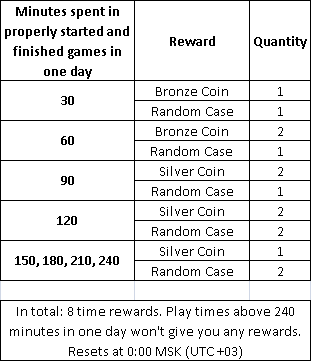 2) Client Side:
2.1) Two new cases are added into the game. Each case includes different weapons (with applied kits) from the game called Sudden Attack 2. The game is also made and closed by Nexon. If you didn't know, in Sudden Attack 2 you was able to customize each part of your weapon. Since Counter-Strike Online 2 is not offering such system, I spent my time to took all existing kits and to apply them to the corresponding weapons manually.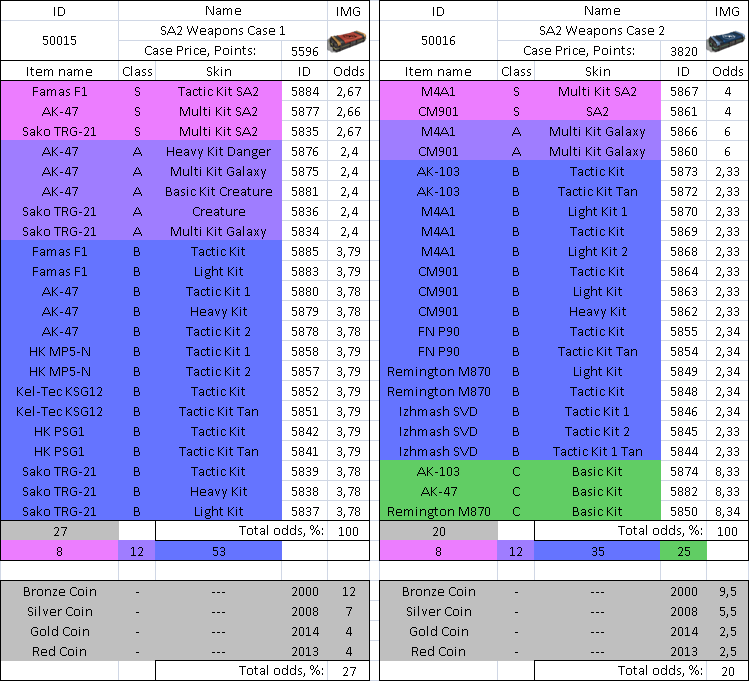 2.2) As you may see from the previous image there are some completely new weapons for Counter-Strike Online 2: AK-103, Colt CM901, Kel-Tec KSG12, HK PSG1, Sako TRG-21, Steyr SSG 69, Beretta M93R, Combat Knife, Gurkha's Knife, Tiger Stripe Knife, Tomahawk.
2.3) No-skin SA2 weapons are already added to everyone's inventories. However some of them are just different looking duplicates of already existing ones in CSO2, but they are more detailed. Weapons that are added for free: Famas F1 Default, Ak-47 Default, M4A1 Default, Colt CM901, HK MP5-N Default, FN P90 Default, Kel-Tec KSG12, Izhmash SVD Default, HK PSG1, Sako TRG-21. Explanation: in CSO2 you already have, for example, AK-47, so the basic weapon from SA2 that you received is named AK-47 Default since it is a duplicate.
2.4) In total there are 61 new weapons that you can obtain and play with (including duplicates).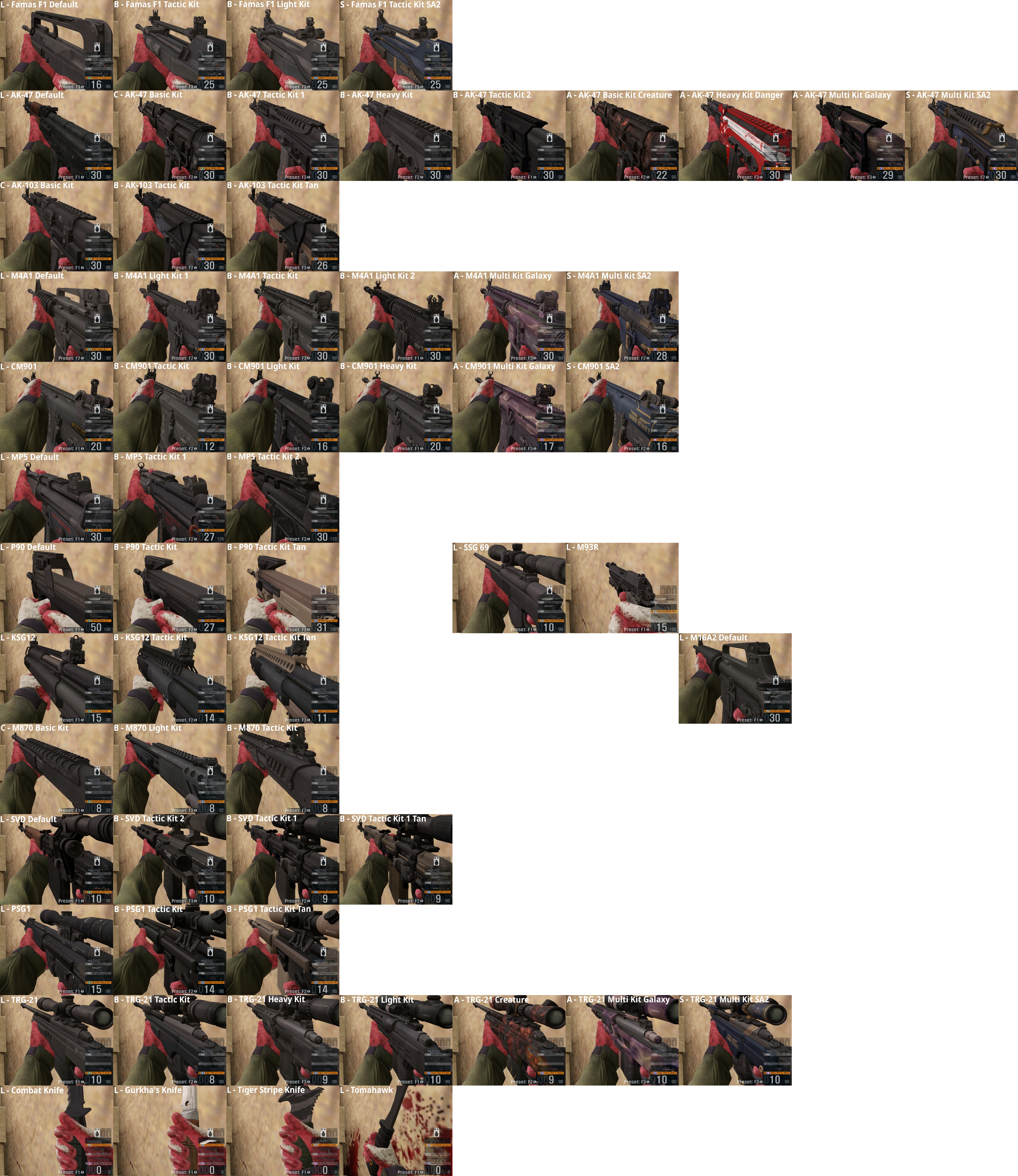 2.5*) In order for those weapons to look good you may want to use a modified shader (also need to set Shaders on Low in game options to use it), because default Nexon shader of CSO2 is looking really bad on high detailed weapons. This shader can be found at the bottom of update download page.
Σ) An update video, showcasing the weapons and cases. Click this link to check it.